Art and Design
We believe that a high-quality art and design education should engage, inspire and challenge pupils and equip them with the knowledge and skills to experiment, invent and create their own works of art, craft and design.
As pupils progress, we encourage our art pupils to be able to think critically and develop a more rigorous understanding of art and design in the wider world. Pupils are encouraged to explore and gain an understanding into how art and design both reflect and shape our history, and contribute to the culture, creativity and wealth of our nation.
Art Department Vision Statement
Every student is supported to develop their artistic ability, regardless of their level of artistic need. All students are encouraged to explore their creativity and flair, to express their ideas and views confidently through literacy and the visual language of art. Artistic achievement is celebrated in the school. Every student perceives the value of creative expression personally and in the wider world context through varied practical skills-based learning.
Department Aims
1. All students are able to access a creative, independent skills based visual Art education through a range of inspiring and engaging learning opportunities.

2.Students learn to interpret and utilise the core artistic elements such as: Line, tone, colour, shape, space, form & texture in a personal, critical and meaningful manner.

3.Students develop their self-awareness and confidence through the mastery of challenging subject-based skills such as: drawing, sculpture amongst other media and techniques.

4.Students are challenged and supported to achieve through structured, scaffolded tasks and a developmental assessment framework.

5.Students develop their competencies of inquiry, analysis and critical thinking through written, visual and oral communication using art vocabulary.

6.Students develop an understanding of British values especially focusing on mutual respect and tolerance for others valuing different perspectives, identities and opinions.

7.Students develop an appreciation of Art and its integral contributions within world culture, The transferable skills developed within the subject and specific career opportunities.
Art at Aylestone
Our KS3 curriculum teaches pupils to develop their creativity and ideas. At GCSE level we focus on increasing their proficiency in their execution within a range of media and techniques. All students are encouraged to develop a critical understanding of artists, architects and designers and are expected to be able to express reasoned judgements that can inform their own work.
All pupils are taught –
To use a range of techniques to record their observations in sketchbooks, journals and other media as a basis for exploring their ideas

To use a range of techniques and media, including painting

To increase their proficiency in the handling of different materials

To analyse and evaluate their own work, and that of others, in order to strengthen the visual impact or applications of their work

About the history of art, craft, design and architecture, including periods, styles and major movements from ancient times up to the present day.
GCSE Art & Design
In our rapidly changing world, where today's technology and practices are out-of-date tomorrow, creative flexibility is an essential skill. GCSE Art & Design not only develops this skill, it can also lead to an exciting future in an art-related occupation - the UK's second highest employment sector.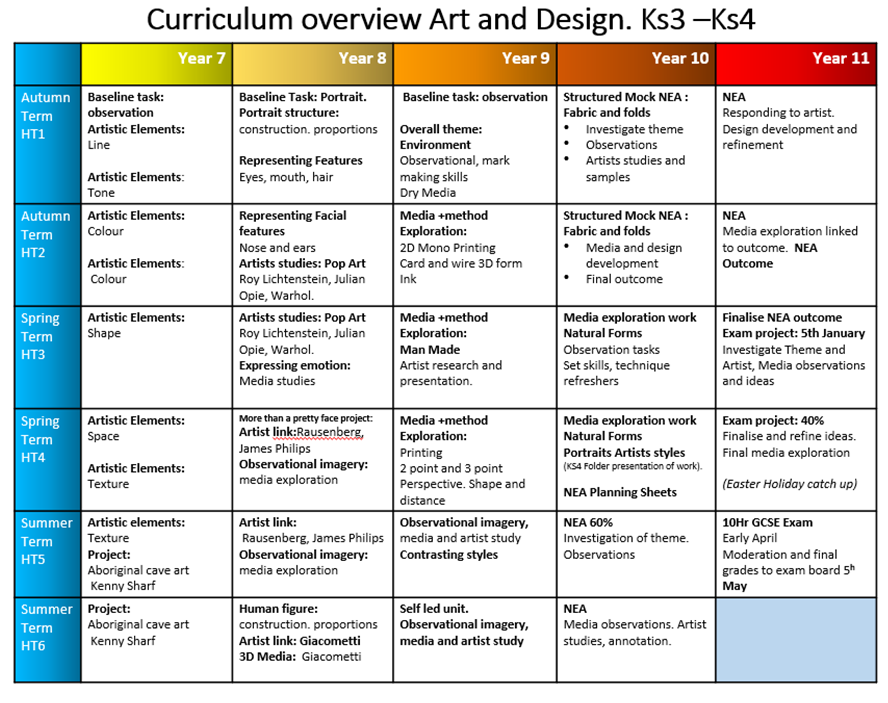 How will I learn?
Students are required to demonstrate knowledge, skill and understanding in a range of art and design disciplines. This process starts in year 10 with teacher-led learning which establishes a foundation in painting & drawing, ceramics, printing, constructs, methods and the application of ICT in art. As the course progresses, students gain more independence and, with the support and guidance of their teacher, take the lead in their own work.
The Learning Journey can be downloaded HEREHow will I be assessed?
Students are required to produce one unit of course work (worth 60%) and carry out a controlled test (worth 40%) by the end of the spring term in year 11. The course work is a portfolio of the student's best work based around a theme. It should show a logical development leading to a final piece. This includes research, sketchbooks, practical exercises, media experimentation and all preparatory work. The controlled test is broken down into two stages, preparation and examination. Preparation starts with the issue of the exam paper (at the start of the spring term year 11) followed by a period of research and experimentation leading up to a 10-hour exam. Course work and the controlled test are marked by the Art Department staff at the end of the spring term in year 11 before being externally moderated.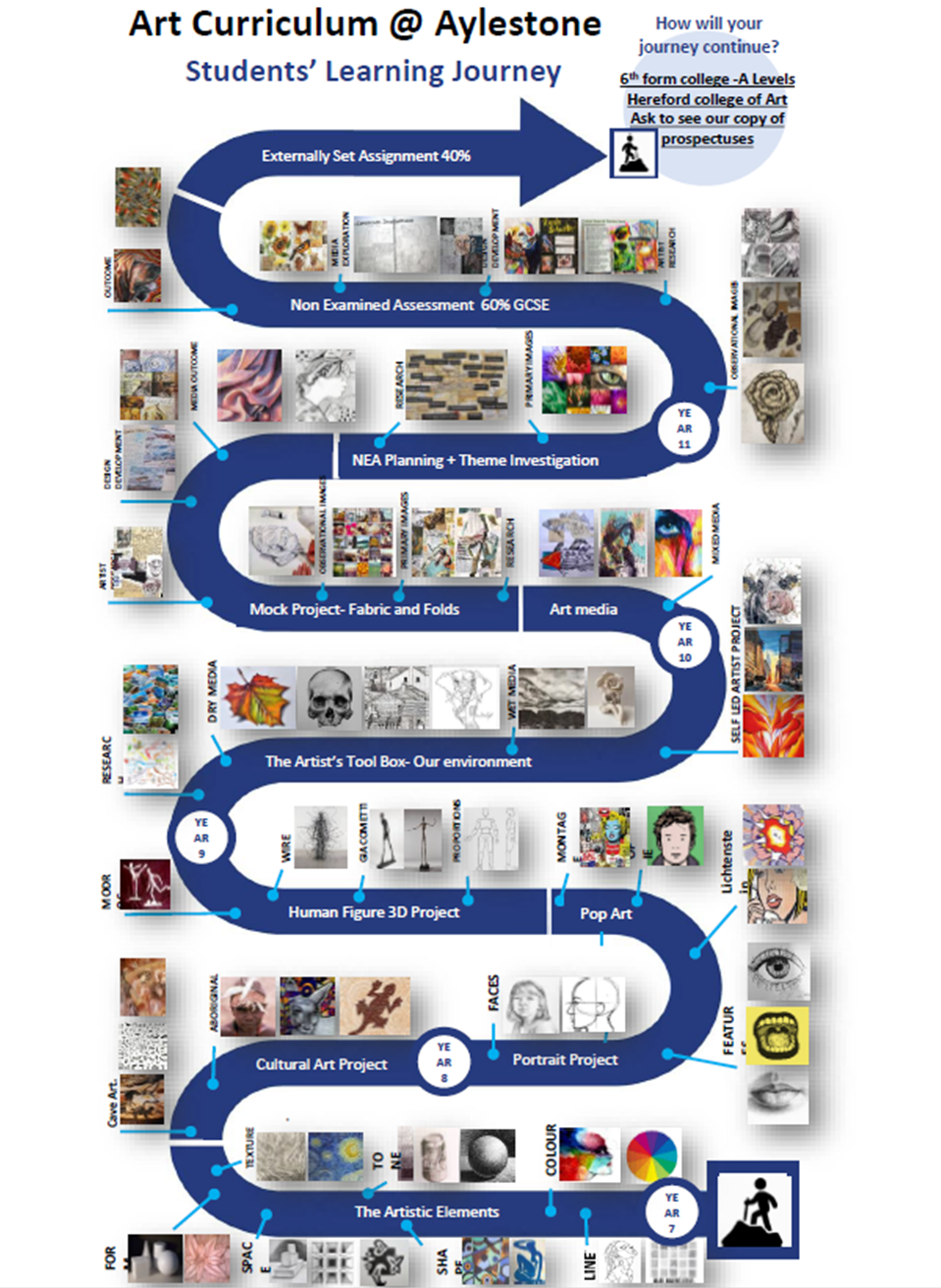 What can I progress to?
Advertising art director

Art therapist

Commercial art gallery manager

Community arts worker

Conservator

Exhibition designer

Fine artist

Graphic designer

Illustrator

Museum/gallery exhibitions officer

Printmaker

Secondary school teacher
Further Information
Mr Stevenson
Email: MStevenson@aylestone.hereford.sch.uk